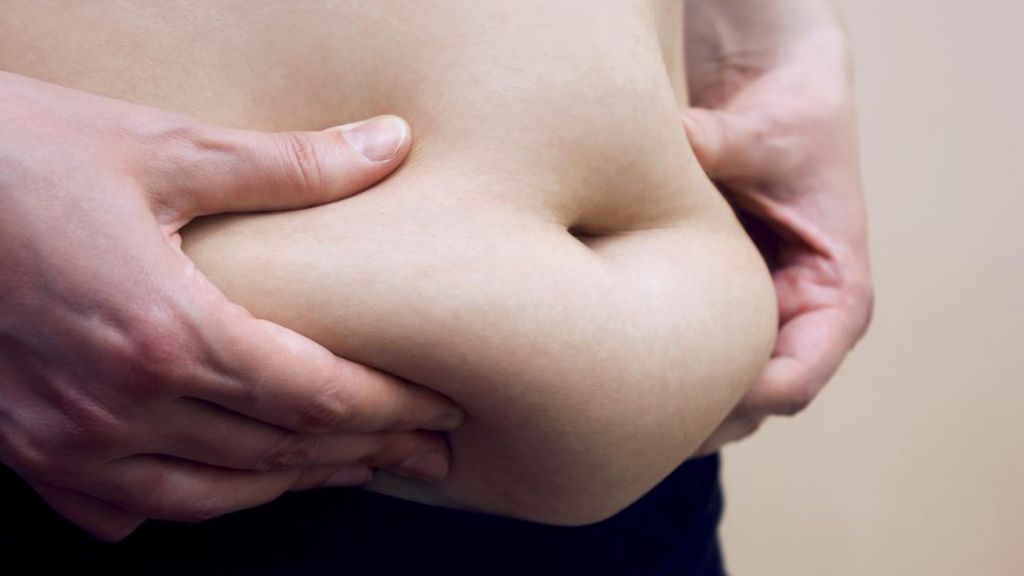 12 Oct

New Zealand third fattest country

Any doubts about New Zealand's obesity epidemic have been dispelled by a new international study that shows we are the third fattest nation in the world.

An OECD obesity update, released on Thursday, shows that 30.7 adults in this country are classified as obese, up from 26.5 per cent in 2007.

The USA is ranked first with a 38.2 per cent adult obesity rate and Mexico is second at 32.4 per cent.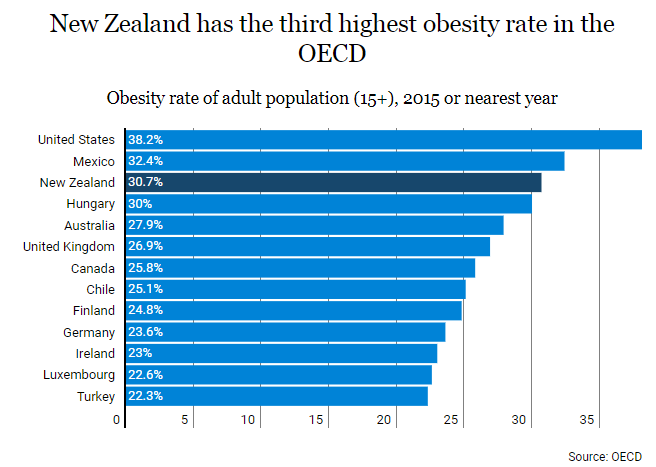 The report says while the rate of obesity is slowing around the world, the number of countries it is spreading to is on the rise.
To combat the problem, the study recommended better communication policies in all OECD countries, improving nutrient information on food packaging, harsher regulations on advertising unhealthy food and drink to children, and using social media to show off the problems of obesity.
"Broader regulatory and fiscal policies [from central government] are needed to tackle obesity effectively," the report said.
Hungary (with an obesity rate of 30 per cent), Australia (27.9) and the United Kingdom (26.9) round out the top six of the fattest countries.
Countries with the lowest rates of obesity were Japan (3.7 per cent), Korea (5.3) and Italy (9.8).
Nearly one in six children are obese across the OECD, the report concluded, and in the majority of countries, women are more likely to be obese than men.
On Twitter, former prime minister Helen Clark described New Zealand's position on the obesity league table as "shocking" and said the new government needed to address the issue.
Shocking 3rd placing of #NZ 🇳🇿 on #obesity league table. Whoever's in government needs to implement strong policy 2 stop this epidemic #NCDs https://t.co/NoFaD2DC95

— Helen Clark (@HelenClarkNZ) October 11, 2017
Christchurch bariatric surgeon Steven Kelly said: "Basically, it's bad and it's getting worse."
"Obesity continues to increase at 0.5 per cent year on year, and it's certainly not slowing up."
Some of his patients had BMIs of between 70 to 80. BMI anywhere over 30 is considered obese, while 40 or above is morbidly obese.
"Every week now, I would see a patient who is over 200 kilograms. Ten years ago you would be lucky if you saw one 200kg person a year."
The Ministry of Health statistics – which are more recent than the OECD ones – state almost one in three people aged 15 or over were obese.
Why are we so fat?
The reasons for New Zealand's burgeoning waistlines were complex, but it was essentially a toxic combination of genetics and our environment, Kelly said.
For most of history, food scarcity and famines had kept civilisation lean, he said.
"Now, we live with the same genes but have energy-dense readily-available food anywhere. And everybody overeats."
The average Kiwi eats 350 more calories every day than they need, Kelly said.
"The genes load the gun and the environment pulls the trigger."
Auckland bariatric surgeon, Richard Barbor said we lived in a "toxic food environment".
"The biggest thing that keeps getting spun out in the media is this fallacy of choice – that somehow eating is everybody's individual responsibility.
"If you expose humans to unhealthy foods they get fat. The human body isn't designed to fend off all these corporate food outlets. Our population needs protection from toxic foods."
That was where actions such as banning junk food advertising to children, adopting sugar taxes and putting restraints on people selling refined carbohydrates should come in, he said.
Public health Professor Tony Blakely from Otago University believed excess energy intake was the biggest reason behind the epidemic.
"The food industry … creates foods that are tasty and enjoyable to us so we're left with excess energy intake.
"If we're going to turn this around we do need to change the environment."
That meant incentivising or "nudging" the food industry to change the way foods were prepared to reduce their salt and sugar content, he said.
What's the food industry doing?
Manufacturers had put huge, ongoing effort into reformulating popular products – both food and beverage – to remove sugar, fat or salt, Katherine Rich, chief executive of the Food and Grocery Council (FGC), said.
"There are now many hundreds more healthier options available to shoppers than there have ever been."
Some companies has spent years developing and trialling different recipes and ingredients with consumers to make sure the improved product suits their tastes.
​"Blaming the environment is an academic theory that only takes you so far. There are many people who live in the same environment and aren't obese, which indicates that food selection, genetics and activity levels are key factors as well."
The industry was one of the drivers behind the Health Star Rating scheme – now displayed on more than 2500 products – which was designed to make it easier to identify healthier products, she said.
"FGC believes that to successfully beat obesity, every sector of society needs to adopt a culture of healthy eating, moderation, and activity."
The Government has repeatedly dismissed calls for a sugar tax, with Health Minister Jonathan Coleman stating "there is no evidence that a sugar tax decreases obesity rates".
Blakely said about 30 countries – including Ireland, Mexico, the UK, and France, had a sugar tax, and he believed it would be "an inevitability" for New Zealand.
Kelly said: "For every 20 per cent you tax sugary drinks, there's a 20 per cent reduction [in consumption]."
He was disheartened by Government efforts to curb obesity, but believed leaders would be forced to act eventually.
"Will it be in 2030 when it's predicted that 40-45 per cent of the population are going to be obese?
"A tsunami of diabetes is on it's way. If 30 per cent of the world's population has diabetes, that will make every health economy in the world bankrupt."
In the mid-2000s, obesity was estimated to cost New Zealand's health system about $600 million each year, Blakely said, but that figure would have increased. Kelly said: "You could probably double that."
Former Prime Minister Helen Clark labelled the New Zealand findings "shocking" via Twitter and said the Government needed to take action to "stop this epidemic".
– Sources, Stuff, MSN