Kids may love candy, but they hate cavities as much as grown-ups do. That's why Spry created SparX Candy, a sugar-free treat that does more. You see, SparX Candy is sweetened only with xylitol, a natural ingredient with clinically proven, unique, dental benefits. Natural candy that's actually good for your teeth? Yes, please! Not only that, xylitol has an incredibly low glycemic index.
Crave candy with a little tartness? Then you need Citrus SparX Candy! With a refreshing blend of lime, orange, and tangerine, it'll be sure to satisfy your craving for sweetness with some zing.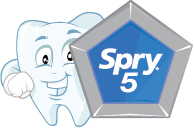 Directions: Numerous clinical studies have shown that in order to maximise the oral health benefits of xylitol, you must continue exposing your teeth and oral tissues throughout the day. The Spry Dental Defense System offers a complete assortment of natural oral care products with xylitol to make this exposure as convenient as possible. We recommend following our SPRY FOR 5 programme.
For best results: Eat SparX Xylitol Candies, or a combination of other xylitol products in the Spry Dental Defense product line, at least five times throughout the day.
Made in the USA.