Why can't we stop smiling? Spry is why! Spry sugar free Gems contain xylitol, a natural sweetener with clinically proven, unique, dental health benefits. Plus, these mints have added calcium for an even stronger, more beautiful smile. All of this in a package small enough to easily throw in your pocket or purse? Sounds like it's time to get your Spry on!
You don't need a slice of lemon meringue pie to get the perfect balance of tart refreshment and smooth creaminess. All you need is Spry Lemon Crème Gems! They put all that delightful flavour into a guilt-free option that fits right in the palm of your hand.
Made in the USA.
Available in Single or 6 packs / 40ct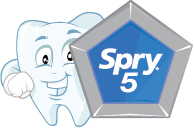 Directions: Numerous clinical studies have shown that in order to maximise the oral health benefits of xylitol, you must continue exposing your teeth and oral tissues throughout the day. The Spry Dental Defense System offers a complete assortment of natural oral care products with xylitol to make this exposure as convenient as possible. We recommend following our SPRY FOR 5 programme.
For best results: Eat Spry Xylitol Gems Mints, or a combination of other xylitol products in the Spry Dental Defense product line, at least five times throughout the day.