Brushing your teeth is important, but what about those places your toothbrush just can't reach? Spry Mouthwash is made to help you get to those hard-to-reach places. Using the power of xylitol, these alcohol-free formulas inhibit bacteria from sticking to teeth and gums while encouraging a naturally healthy environment in your mouth. Plus, pure plant extracts like Aloe vera and Echinacea help soothe irritated oral tissues.
Getting kids to look after their oral health is tough! Thank goodness there's Spry Kid's Bubble Gum Mouthwash to make things easier. With a kid-approved taste, added calcium to strengthen enamel, and no alcohol to worry about, it's sure to be a favourite in your household.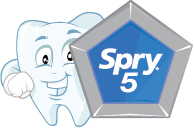 Directions: Rinse full strength for 60 seconds in the morning and at bedtime with one half capful of mouthwash after brushing with Spry Toothpaste.
473mL
Made in the USA.