31 Oct

Low Carb Multigrain Bacon & Cheese Breakfast Tortilla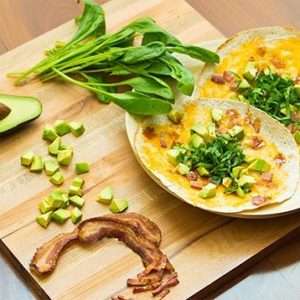 Low Carb Multigrain Bacon & Cheese Breakfast Tortilla
Cheeseyness, spicyness, savoryness, I'm not even totally sure those are words, but they are exactly what comes to my mind when I eat this breakfast tortilla.
Ingredients
1

Multigrain Flour Tortilla

1

slice

of Applewood Smoked Bacon

3

tablespoons

your favorite Cheese

shredded

½

of a fresh Avocado

A couple leaves of Spinach

freshly chopped

Your favorite Hot Sauce

Salt and Pepper
Instructions
Take your slice of raw Bacon and rough chop it. Cook the slices over medium high heat in a saute pan until crispy. Spoon the bacon pieces onto a paper towel to drain and cool.

Remove the extra bacon drippings from the pan.

In that same saute pan, heat the tortilla in the pan on medium heat, sprinkle the cheese and the bacon bits over the tortilla. Remove the tortilla when the cheese has melted.

Slice the half of the avocado up and arrange on your open faced tortilla, sprinkle with your favorite hot sauce and chopped Spinach. Serve immediately!