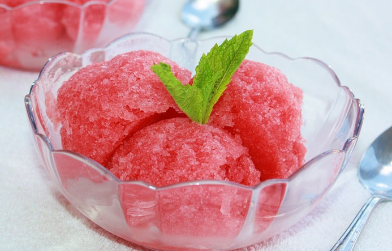 28 Nov

Sugar Free Watermelon Sorbet
Sugar Free Watermelon Sorbet
"A cooling thirst quenching treat when the summer days are hot and parching and watermelons are plentiful."
Ingredients
1 ¼

cups

Spry® Xylitol Sweetener

1 ¼

cups

water

6

cups

watermelon chunks

seedless

2

Tbsp.

lime juice
Instructions
Place the Spry® Xylitol Sweetener and water in a medium sauce pan and dissolve over low heat. Once the Spry® Xylitol Sweetener is completely dissolved, remove from heat and allow to cool.

In a blender or food processor, puree the watermelon until smooth. Add the lime juice and Spry® Xylitol Sweetener mixture then pulse to mix.

Freeze in an ice maker according to the manufacturer's directions. Serve with a squirt of fresh lime juice or a drizzle of balsamic reduction.